DATELINE: January 27, 2017
World Loses Superman
We share anew the touching obituary
written by Bob's friend Brian McKernan
Bob Holiday, the first actor to portray Superman on the Broadway stage, in the 1966 Harold Prince musical comedy "It's a Bird...It's a Plane...It's Superman," died on January 27, 2017 at his home in Hawley, PA. He was 84.
Mr. Holiday had been a successful home builder in Lake Wallenpaupack PA since the late 1970's, although his first love was performing in front of live audiences, a vocation he discovered at the age of five after earning a lollipop for singing "My Bonnie Lies Over the Ocean" at a Catskill resort talent show. A 20-year career followed as a nightclub entertainer and actor in TV commercials, Broadway shows, and touring companies.
The future Superman was a soloist in the George Washington High School glee club and performed on "The Ted Mack Amateur Hour" after graduation. Inspired by his heroes Dean Martin and Jerry Lewis, Mr. Holiday performed as a singer and comedian in Manhattan restaurants, joining the Army in 1953, where he polished his craft at NCO clubs and as a DJ on Armed Forces Radio in Germany. He resumed his nightclub career after military service, performing in a variety of cities opposite such stars as Jayne Mansfield and Mamie Van Doren. A 1956 MC stint at the Colony Club, in Dallas, had Mr. Holiday working for owner Jack Ruby, later to become infamous as the killer of Lee Harvey Oswald, John F. Kennedy's assassin.
Mr. Holiday's first major Broadway role was in Fiorello!, the Tony and Pulitzer Prize-winning 1959 musical by Jerry Bock and Sheldon Harnick directed by George Abbott. Playing the part of Neil, young law clerk opposite actor Tom Bosley's portrayal of firebrand New York City mayor Fiorello LaGuardia, the show ran for 795 performances and provided Mr. Holiday with his introduction to future Superman producer Harold Prince. Road shows of "Camelot" and "Lady in the Dark" followed, and on November 17, 1965 The New York Times reported that the 33-year-old Mr. Holiday bested 51 competitors auditioning to win the title role in Mr. Prince's pop art-era musical comedy "It's a Bird...It's a Plane...It's Superman." Mr. Holiday's 6 foot, 4 inch, 190 pound frame, square-jawed good looks, and acting and singing abilities made him the perfect candidate to portray the comic's Man of Steel on the Broadway stage. The show opened at the Alvin (now Neil Simon) Theatre on March 29, 1966. Of Mr. Holiday's performance, reviewer Whitney Bolton of The New York Morning Telegram said, "[T]he embodiment of Superman makes the show come alive and sparkle. His portrait of a ponderous human miracle, in love with good deeds and unabashed virtue, is delightful."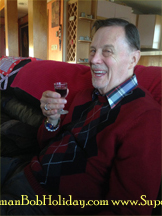 "I relished [the] role," Mr. Holiday said of Superman years later, explaining that he'd been a comic book fan as a youngster. He also felt a responsibility to uphold the character's reputation, making time to meet with young autograph-seekers backstage after every matinee performance. "I sign a big red S, tell them to drink their milk, and be good," he stated. "I get a big kick out of it."
Although positive reviews of "It's a Bird...It's a Plane...It's Superman" were abundant, with New York Times critic Stanley Kauffman calling it "Easily the best musical so far this season," the show closed on July 17 after 129 performances. Librettist Robert Benton, who wrote the show's book with David Newman, attributed its short run to "capelash" caused by the immense popularity of the "Batman" TV series, which had premiered just weeks earlier. Matinee performances were packed with youngsters, but evening attendance steadily dwindled as adults assumed the show was geared to kids. Mr. Holiday reprised the role during the Summer of 1967 in Kansas City and St. Louis in open-air performances before audiences estimated in excess of 10,000.
Mr. Holiday continued his theatrical career for several more years, appearing in the Los Angeles company of Promises Promises and narrowly missing out on being cast as the father on The Brady Bunch TV series. In 2003 he took a break from his homebuilding projects in the Pocono Mountains to appear onstage at the annual Superman Celebration in Metropolis IL, delighting fans and being filmed for a documentary titled Holiday in Metropolis.
Noting that fellow Superman Christopher Reeve described himself as a "temporary custodian" of the character in his 1998 autobiography Still Me, Mr. Holiday added, "I was very proud to 'take care' of Superman in the 1960's. Playing the part was great fun, and I loved it. I still hear from fans today, and it's wonderful. Over and over, someone will find me, get in touch, and let me know how much they loved the show (and even me personally). You can't imagine how much that means to me 40 years later."
Mr. Holiday's daughter Kelly and son-in-law Joe were at his side upon his passing. He is mourned by family and friends, including your contributors here at www.SupermanBobHoliday.com, Brian McKernan and Toni Collins.