When


"It's a Bird"


Became a Part of History!

Our Favorite
Broadway Show
Begins To Be
Recognized
PART 2
A wonderful friend of mine (hat tip to Rita Hejkal, other grandmother to a budding Superman fan) motivated this question: Just when did "It's a Bird It's a Plane It's Superman©" become a part of history? Rita, always generous and well aware of my dedication to Superman, sent me a First Edition copy of the Les Daniels 1995 book, DC Comics: Sixty Years of the World's Favorite Comic Book Heroes. And there on page 147 was my friend Bob Holiday and a decent write-up about "It's a Bird It's a Plane It's Superman©".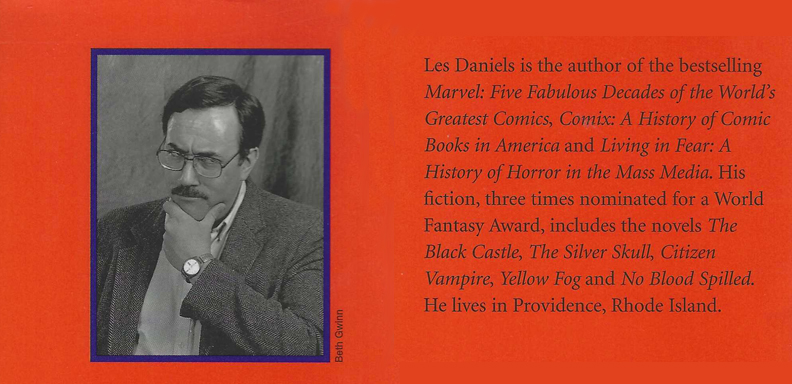 A quick Internet search later, I realized that Les Daniels may have been the first author to include "It's a Bird It's a Plane It's Superman ©" in any Superman retrospective. The Smithsonian exhibit was wonderful but fleeting. Finally, in hardcover and permanently ensconced in various libraries, Bob Holiday and the rest of the cast were recognized for the amazing job they'd done.
Les Daniels made some interesting points.
On March 29, 1966, while the Batman television show was taking America by storm, Superman arrived in New York in the first musical ever based on a comic book character. Newspaper strips had inspired a few Broadway shows previously [does he mean

Li'l Abner

?], but

It's a Bird, It's a Plane, It's Superman

was something new.
The concept came from two

Esquire

magazine writers, Robert Benton and David Newman, whose humorous articles had encouraged songwriters Charles Strouse and Lee Adams to ask them for ideas. Benton and Newman were newcomers to the stage, but Strouse and Adams had recently enjoyed a big success with

Bye Bye Birdie

. The producer-director was Hal Prince, who would go on to such gigantic hits as

Cabaret, Evita

and

Sweeney Todd

. With all this talent behind it,

Superman

opened on Broadway to excellent reviews; in fact the

New York Times

called it "easily the best musical so far this season." Yet ultimately the show failed, closing on July 17 after 128 performances [actually, 129], and its creators are still wondering why.
Les Daniels quoted these same creators in an attempt to explain the relatively short run of the show:
David Newman blamed it on "capelash." In his 1974 autobiography,

Contradictions

, Hal Prince agreed that the show was a victim of bad timing, unable to compete with Batman on television even though the play was written a year earlier and was not an imitation. He also felt he hadn't hit his stride, that he could have done a better job directing after a little more experience.
Bob Holiday, too, wondered why the show had closed. He was pretty torn up about it. He went to visit Hal Prince to ask if he'd done anything wrong. Hal assured Bob that he had been a great Superman, that there was nothing more he could have done. This post-show conversation gave Bob a lot of peace through the years, as he had always tried to do his best as Superman.
Daniels offers a few more cogent thoughts about the "weaknesses that may have taken their toll":
Top billing went to actor Jack Cassidy, a recognized star [shades of The Brady Bunch and a "known actor"] who performed enthusiastically but was essentially playing a supporting role. As egotistical newspaper columnist Max Mencken, he lusted after Lois Lane and vaguely encouraged the machinations of the villainous Dr. Sedgwick (Michael O'Sullivan), but in fact Cassidy's character was peripheral to the main action of the story. Sensing this, Cassidy disrupted rehearsals in his attempts to expand his role, thus throwing the play further off balance. An even less significant character, Mencken's secretary, got the best song in the show when she appraised Clark Kent in the rhythmic "You've Got Possibilities," belted out by future star Linda Lavin.
Bob Holiday alluded to some of the same things in his autobiography Superman on Broadway (co-authored with @Chuck Harter):
When I got the script, I had mixed feelings. Why was

Jack Cassidy

getting top billing when I was playing the title character? … I decided not to say anything because I was in no position to rock the boat, and this was my greatest career advance to date. I concentrated on being the best Superman I could be.
They really cast a great Superman, didn't they?
And then Les Daniels says a few things with which I strongly disagree:
Most of the musical's songs lacked drive. Strouse and Adams appeared to be experimenting with attenuated lines, with additional phrases tacked on to the end; the results were clever songs without memorable melodies or real momentum. The tricky orchestrations by Eddie Sauter emphasized the problems with arrangements that relied on counterpoint and tended to neglect the beat.
History tells a different story. The original Broadway cast album for "It's a Bird It's a Plane It's Superman©"has never gone out of print and brand-new, shrink-wrapped copies can still be purchased. Over and over at SupermanBobHoliday.com, we hear from people who became Bob Holiday fans simply by listening to this cast album. They are impressed with the strength that Bob Holiday brings to the music, and Patricia Marand brings Lois Lane to life with her clear, pure tones. Jack Cassidy is charmingly smarmy, Michael O'Sullivan is endearingly maniacal, and yes, Linda Lavin in her small role as Sydney captures everyone's heart—including Clark Kent's. And in a score replete with strong drums and driving bass lines, I can't think of a single song from the show that "neglect[ed] the beat."
Les Daniels is critical of the script:
The script by Benton and Newman seemed similarly unfocused … the attempt to achieve balance between seriousness and spoof resulted in a story not entirely successful on either level.
Yet he seems to love the part that most fans like the least:
The most ingenious touch was to have the villain work on the invulnerable hero's mind, using psychological methods to instill doubt and confusion.
And then Mr. Daniels goes wildly wrong:
Yet Superman (Bob Holiday) recovered merely by reprising his musical declaration that "every man has a job to do, and my job is doing good."
Sorry, that's not what happened. What causes Superman to recover is, yet again, a selfless desire to save the world. And in this case, he's not saving just any old Joe. No, this time he's saving Jim Morgan (Don Chastain), the man who has won Lois Lane's affection and stolen her from Superman's life. Jim Morgan is shot, Superman realizes that he's been duped, and with a roaring lead-in, calls out, "Don't panic, Lois, here I come!" He commences to fight off "a gang of thugs played by back-flipping acrobats" [Daniels] while he sings Bob's favorite song, "Pow! Bam! Zonk!"
Come on—POW!—Let's go—BAM!—I need a little exercise!
Take that—POW!—And that—ZONK—Let's see what you can do!
Superman is back, full throated, singing faster than a speeding bullet and fighting at the same time in real time —no breaks, no pauses, when did he catch his breath?—exhilarating us all!
| | |
| --- | --- |
| Your browser does not support the audio element. | Click to hear Bob's amazing performance! |
In the end, despite getting "the end" so utterly wrong, I have to forgive Les Daniels. He redeems himself in his closing paragraph :
In 1975,

It's a Bird, It's a Plane, It's Superman

appeared on ABC television in a version so universally deplored that it seemed likely to bury the play permanently. In 1989, however, Superman's fiftieth anniversary inspired more than twenty revivals around the country, and in 1992 a production at Connecticut's prestigious Goodspeed Opera House included new songs written by Strouse and Adams. Meanwhile, Strouse had demonstrated his facility at adapting comics with the mega-musical

Annie

, while Benton and Newman had become successful screenwriters whose hits included the 1978 movie

Superman

. Such ironies suggest that the first Broadway appearance of the first super hero may indeed have been the victim of bad timing.
SupermanBobHoliday.com SupermanBobHoliday.com