Charles Strouse
Superman's Composer

Meet the Composer of the
Brassy, Sassy Music from


"It's a Bird It's a Plane It's Superman"
In 2008, Charles Strouse celebrated his 80th birthday AND published his memoirs. Mr. Strouse is, thankfully, still with us and still maintains a fascinating web site, CharlesStrouse.com.
---
Charles Strouse, composer of the 1966 Superman Broadway musical, celebrated his 80th birthday on June 2, 2008, at New York's Paley Center. The event, titled "Applause, Applause: A Salute to Charles Strouse," was broadcast on New York public television station Thirteen/WNET, and an excerpt can be seen here.
In addition to the score of "It's a Bird It's a Plane It's Superman" (available from Amazon.com), Strouse also composed the music for Bye, Bye Birdie, Applause, Annie, and many other musicals. The Tony Award-winning composer has just written an autobiography, titled Put On a Happy Face: A Broadway Memoir.
Mr. Strouse is more active than many folk 50 years his junior. This year alone, he has participated in a dizzying array of events chronicled on his new web site. And just last year, Charles Strouse appeared as "Daily Planet" editor Perry White at the June, 2007, "It's a Bird It's a Plane It's Superman" York Theatre Company revival at New York's Citigroup Center.
---
Charles Strouse has never left our favorite show behind. In October, 2006, he attended a revival of "It's a Bird It's a Plane It's Superman" staged in Kirkland, Washington. In a delightful Question and Answer Talkback session after the show, he entertained the audience with anecdotes from past productions and tantalizing promises of new shows to come.
Mr. Strouse chuckled with the audience regarding changes that had to be made to the villains in Superman. "We had what we thought was a political problem. We first wrote the show for Chinese, and then China became our friend. We wrote it for Russians, and then they became our friends." Another re-write turned the villains into Middle Eastern terrorists, but that had to be scrapped because,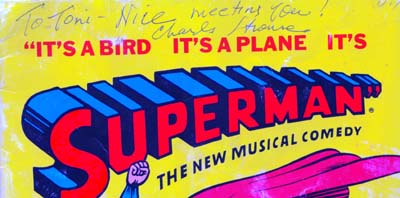 in the aftermath of 9-11, no one felt it was appropriate to stage the terrorists blowing up City Hall. Mr. Strouse felt that Kirkland's variation, inventing villains from the fictional "Moldavia," was a brilliant solution.
That night in Kirkland, Charles Strouse reminisced that Bob Holiday "was wonderful." Night after night, he recalled, Bob Holiday would remain in his Superman costume to greet people gathered around the stage door. How many Broadway shows can boast of an actor so dedicated to his role?
Web Hostess Toni Collins attended the Kirkland event, and
Mr. Strouse graciously signed her 40-year old Souvenir Program.
---
Bob Holiday (c) reunited with
composer Charles Strouse (r) and
lyricist Lee Adams (l) at a
2007 revival of
their Broadway show.
Photo by Brian McKernan.
In his new [2008] book, Put On A Happy Face: A Broadway Memoir, Charles Strouse outlined how tough it was to find the right Superman:
"He had to be tall, dark, and handsome, look good in tights, and have the muscular physique so familiar to comic book readers (these were the days before everyone went to the gym).
Not to mention, he had to sing, act, and fly.
He also needed to possess an innocent, naïve quality that would make us believe him when he sang about his job of 'Doing Good.' We couldn't think he was campy in any way. Hal [Prince] suggested Bob Holiday, [and] he proved to have just the right qualities."
Fans of the show agree with Charles Strouse and Hal Prince. Bob Holiday was the perfect Superman.
---
| | |
| --- | --- |
| | Bob Holiday and Charles Strouse saw each other one last time at Bob's final public appearance. The occasion was the Encore! revival of "It's a Bird It's a Plane It's Superman" in March, 2013, held at New York City Center. After the performance, a 45-minute Question and Answer session was held. It was great honor for Bob when he was introduced from the stage as the original Broadway Superman. |
Text © 2008, 2019 Brian McKernan and Toni Collins
Quotes from
Put on a Happy Face: A Broadway Memoir

, © 2008 by Charles Strouse,
Union Square Press, an imprint of Sterling Publishing, Co., Inc. All rights reserved.
SUPERMAN and all related elements are the property of DC Comics. TM & © 2019
Site optimized for Google Chrome
SITE DOES NOT WORK WELL ON INTERNET EXPLORER
Original Site developed by Steve McCracken
Current caretaker: Cross that "T" and Dot That "i" Editing and Web Services
Contact Web Master: TCollins.BHoliday@gmail.com